View markdown source on GitHub
Running Jobs on Remote Resources with Pulsar
Contributors
Questions
How does pulsar work?

How can I deploy it?
Objectives
Have an understanding of what Pulsar is and how it works

Install and configure a Pulsar server on a remote linux machine

Be able to get Galaxy to send jobs to a remote Pulsar server
Requirements
last_modification

Last modification:
Dec 8, 2023
---
What are heterogenous compute resources?
Differences in:
Operating system or version
Users/groups
Data accessibility
Administrative control
Physical Location (i.e. Cities)
Galaxy expects:
One OS, version (dependencies)
Shared filesystem w/ fixed paths
---
Example - Australia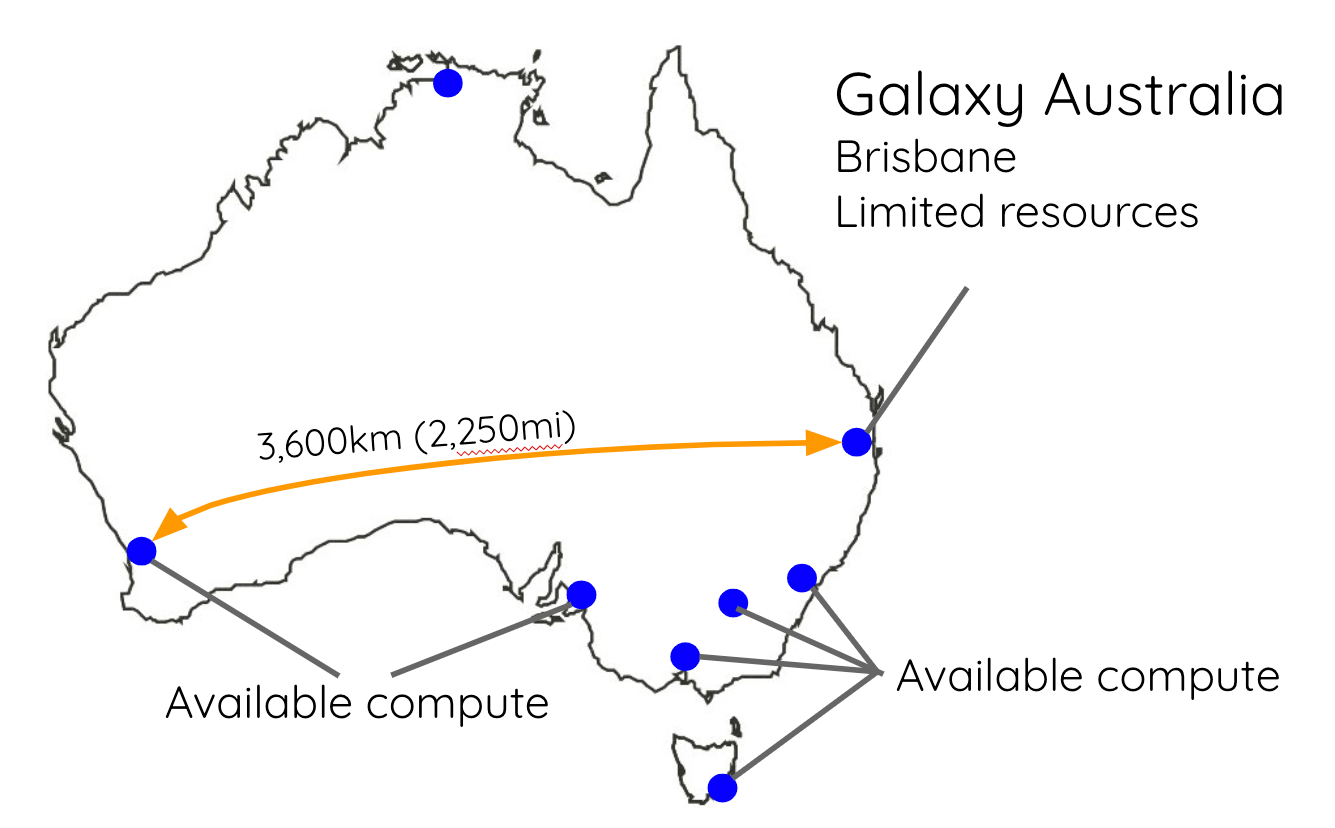 ---
Partial solution - CLI job runner
SSH to remote, submit jobs with CLI sbatch, qsub, etc.
Still depends on shared FS
---
Pulsar

Galaxy's remote job management system
Can run jobs on any(?) OS including Windows

Multiple modes of operation for every environment
---
Pulsar - Architecture
Pulsar server runs on remote resource (e.g. cluster head node)

Galaxy Pulsar job runner is Pulsar client

Communication is via HTTP or AMQP, language is JSON

File transport is dependent on communication method
---
Pulsar - Architecture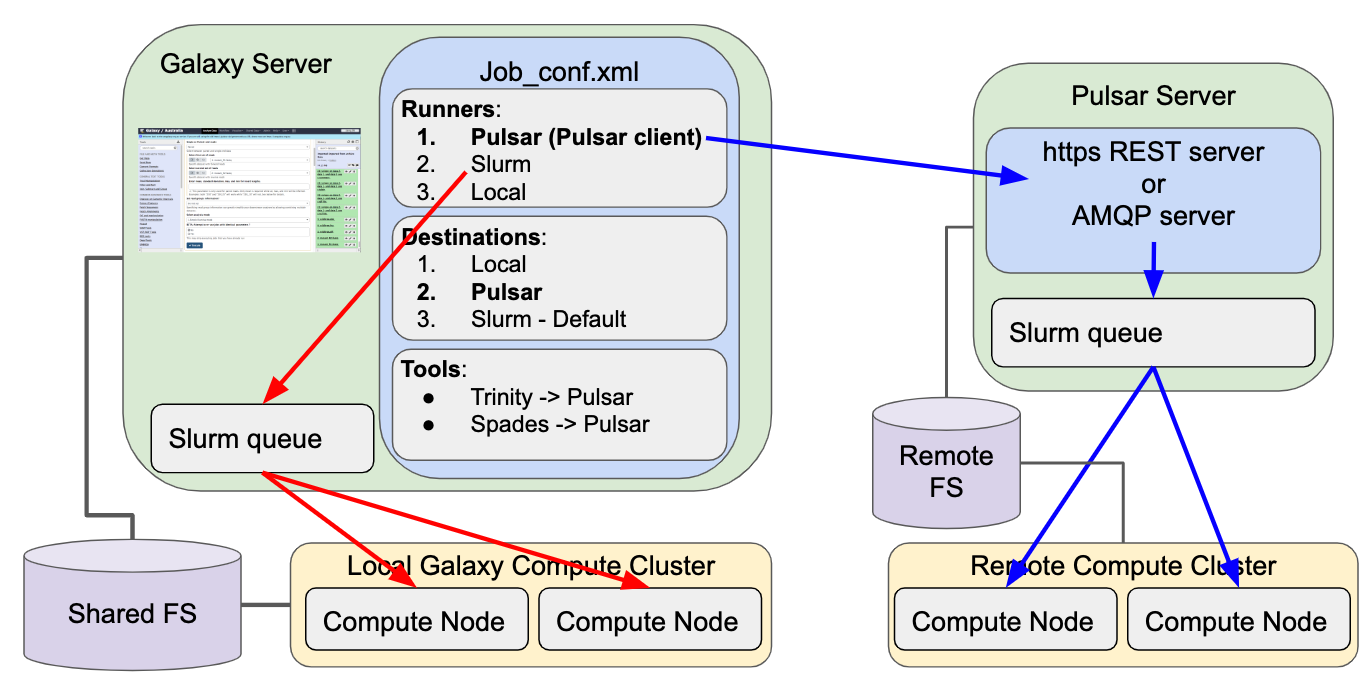 ---
Pulsar Transports - RESTful
Pulsar server listens over HTTP(S)
Pulsar client (Galaxy) initiates connections to Pulsar server
Good for:
Environments where firewall, open ports are not concerns
No external dependencies (AMQP server)
---
Pulsar Transports - AMQP
Pulsar server and client connect to AMQP server
Good for:
Firewalled/NATted remote compute
Networks w/ bad connectivity
---
Pulsar Transports - Embedded
Galaxy runs Pulsar server internally
Good for:
Manipulating paths
Copying input datasets from non-shared filesystem
---
Pulsar - Job file staging
Pulsar can be configured to push or pull when using RESTful:
Push

Galaxy sends job inputs, metadata to Pulsar over HTTP
Upon completion signal from Pulsar, Galaxy pulls from Pulsar over HTTP

Pull

Upon setup signal, Pulsar pulls job inputs, metadata from Galaxy over HTTP
Upon completion, Pulsar pushes to Galaxy over HTTP
Pulsar can use libcurl for more robust transfers with resume capability
AMQP is pull-only because Pulsar does not run HTTP server
---
Pulsar - Dependency management
Pulsar does not provide Tool Shed tool dependency management. But:
It has a similar dependency resolver config to Galaxy
It can auto-install conda dependencies
It can use containers too!
---
Pulsar - Job management
Pulsar "managers" provide job running interfaces:
queued_python: Run locally on the Pulsar server
queued_drmaa: Run on a cluster with DRMAA
queued_cli: Run on a cluster with local qsub, sbatch, etc.
queued_condor: Run on HTCondor
---
Pulsar Australia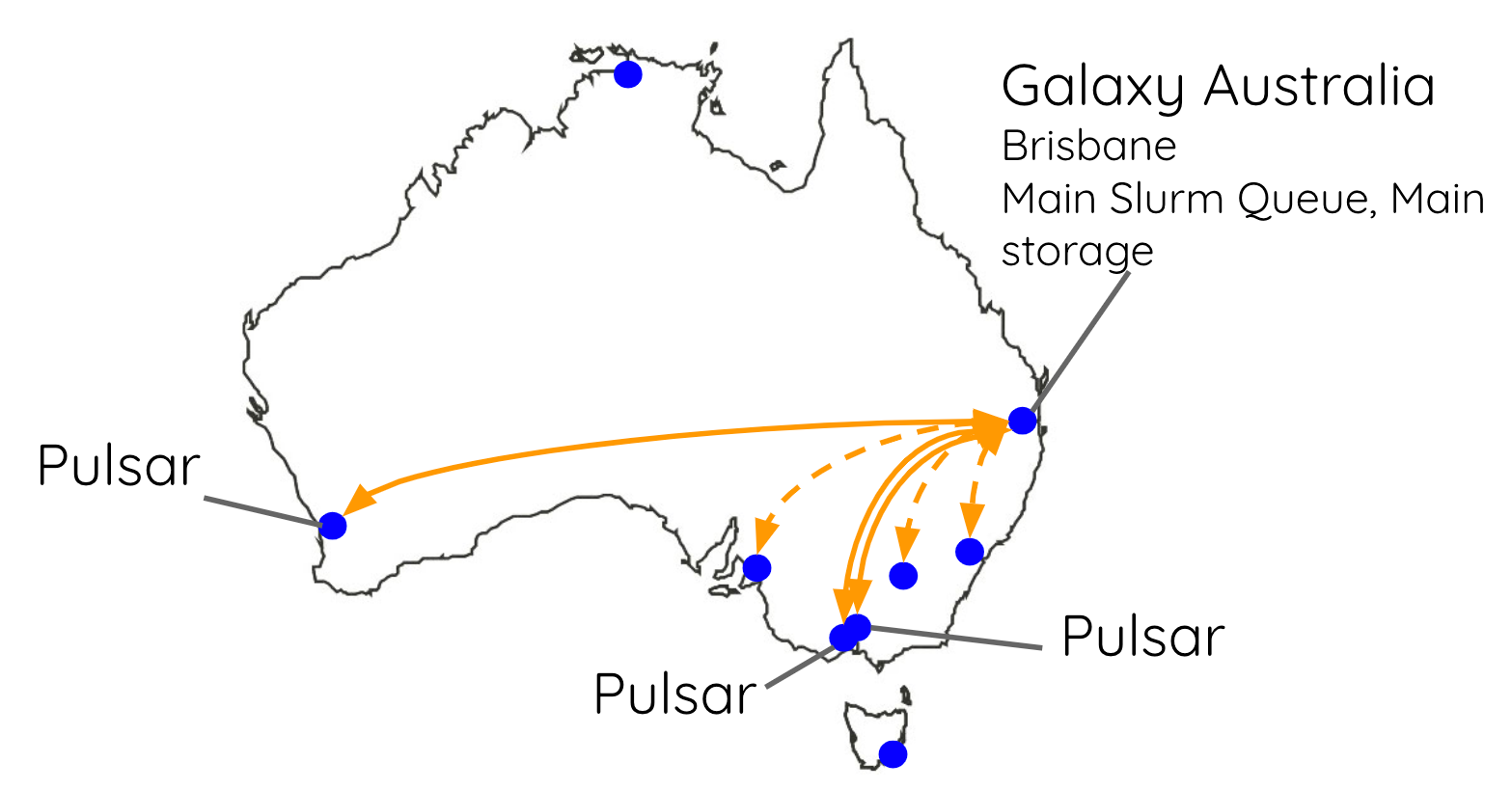 ---
Resources
Pulsar Read-the-docs
Pulsar on galaxyproject.org
Pulsar Github
Pulsar Ansible
---
Key Points
Pulsar allows you to easily add geographically distributed compute resources into your Galaxy instance
It also works well in situations where the compute resources cannot share storage pools.
Thank you!
This material is the result of a collaborative work. Thanks to the Galaxy Training Network and all the contributors!

Tutorial Content is licensed under Creative Commons Attribution 4.0 International License.